Alline prohair - Anti-hairloss1 for women
Hair loss is a natural part of a woman's hair cycle. However, this balance can be disturbed by various factors such as stress, androgenic alopecia, fatigue, emotions, the menopause, childbirth and many others. To slow hair loss1, a dietary supplement such as Alline prohair can be effective, complementing a balanced and varied diet.
Alline prohair  is known for its unique, patented composition that combines CynaPLUS® natural keratin with , a Madenhair extract, a horsetail extract, and a combination of 10 vitamins and 3 minerals.
A complete anti-hair loss1 complex for hair.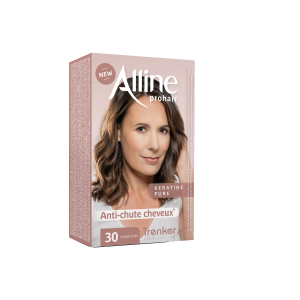 For volume and shine
1 tablet/day
With a meal and a glass of water
Pack of 30 tablets: €22,50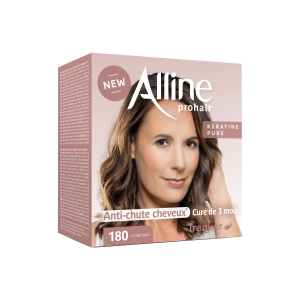 For anti-hairloss

1
2 tablets/day
With a meal and a glass of water
Pack of 180 tablets: €104,99
A clinical study was carried out to investigate the effect of the keratin in Alline prohair.
This study was based on 50 women with a hair imbalance and was carried out over a period of 90 days using 2 capsules per day.
The results obtained4 demonstrated a significant improvement in hair quality in the group taking the active ingredient, but not in the group taking the placebo :
100 %

of women noticed less hair loss4
95 %

of women reported shiny hair4
88 %

of women reported stronger hair4
1Adiantum capillus-veneris helps to slow down hair loss.
2 In vitro efficacy study. Evaluation of the bioavailability activity of a dietary supplement. University of Pavia (2010).
3Makbul, S. Physicochemical and biological properties of Adiantum Capillus-Veris Linn: An Important Drug of Unani System of Medicine. (2018).
4 Beer C. et al., 2014.