ALLINE PROCAP – Hair growth1, volume and shine
Just like your body, your hair needs regular care, nourishment and hydration. Hair growth and loss are natural phenomena that balance each other out. This balance can be impacted by the time of year, or by stress, tiredness, emotional factors, menopause, childbirth, etc. A dietary supplement like Alline procap is sometimes necessary to boost hair growth1, in conjunction with a varied and balanced diet.
A top quality dietary supplement
Composition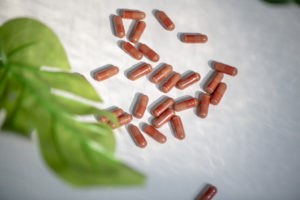 Alline procap is known for its unique, patented composition that combines CynaPlus® natural keratin with 11 vitamins and 3 minerals. 2 capsules of Alline procap per day provide 100% of the recommended intake of vitamins and minerals.
Water-soluble natural keratin
A global hair innovation
Keratin is a natural protein that makes up 95% of hair and provides its structure and strength. It is produced by keratinocytes: cells found in the bottom layer of the epidermis within the hair follicle. This protein is made up of 18 amino acids, including cysteine, all of which are fundamental to the growth and vitality of your hair. If there isn't an adequate supply of these 18 amino acids, keratin can no longer be synthesised and the structural element of the hair suffers.
The keratin used in Alline procap is of natural origin and combines all 18 amino acids that make up the keratin molecule. The exclusive process used to extract this keratin protects its complete amino acid composition while also making it soluble, thus ensuring that almost all of it – 95%2 – is absorbed by the body.
A vitamin complex

Both beta-carotene, a source of vitamin A, and vitamin B2 contribute to the normal metabolism of iron
Vitamin A also contributes to the process of cell specialisation, an important stage in the capillary cycle
Vitamin C increases the absorption of iron
Vitamins B2, C and E help to protect cells from oxidative stress
Vitamin B6 supports the normal synthesis of cysteine
Vitamin B9 and vitamin B6 contribute to the normal metabolism of homocysteine
Vitamin B8 helps to keep your hair healthy
Vitamin B9 is important for the normal synthesis of amino acids and is also involved in the cell division process, another important stage of the capillary cycle
Vitamin B12 is involved in the cell division process
A trio of minerals
Alline procap contains 3 minerals that play an essential role in maintaining a normal hair growth cycle.

Zinc contributes to the proper metabolism of vitamin A, supports normal synthesis of proteins (such as keratin), protects cells from oxidative stress and helps keep hair and nails healthy
Zinc and iron are involved in the cell division process
Iron helps transport oxygen around the body
Copper contributes to normal hair pigmentation. It also plays a part in the normal absorption of iron and helps to protect cells from oxidative stress
Instructions for use
Visible results
Testimonials
Alline procap's results are fantastic: my hair is shinier, regains volume and shine!
After my pregnancy I took Alline procap. I have the impression that my hair has grown back much faster. My hair is also stronger.
During my menopause, my hair lost volume and was dull. I then discovered Alline procap. This dietary supplement was amazing! I find my hair brighter and stronger.
1 Zinc contributes to the proper synthesis of proteins (such as keratin) and helps keep hair healthy.
2 In vitro efficacy study. Evaluation of the bioavailability activity of a dietary supplement. University of Pavia (2010).
3 Beer C. et al., 2014.