Alline pro
MEN

- The hair loss prevention

1

product specially designed for men
Male hair loss is a natural phenomenon that is part of the hair's natural life cycle. However, other factors may be the cause of increased hair loss.Androgenetic alopecia (male or female pattern baldness) is generally caused by various physiological reactions involving testosterone, but can also be explained by other causes, such as a poor diet, stress, or other external factors. This hair loss can be slowed by taking dietary supplements as long as these contain the right combination of ingredients.
Venus hair fern (from the Latin Adiantum capillus-veneris) helps to slow hair loss1.
A high-quality dietary supplement
Composition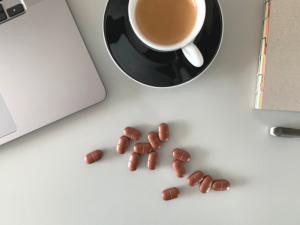 Alline proMEN contains Keramax® keratin, a Venus hair fern extract and a combination of eleven vitamins and two minerals – a wide range of ingredients for preventing hair loss1.
Keramax
®
keratin
A global hair innovation
Keratin is a natural protein that makes up 95% of hair and provides its structure and strength.  It is produced by keratinocytes: cells found in the bottom layer of the epidermis within the hair follicle. This protein is made up of 18 amino acids, including cysteine, all of which are fundamental to the growth and vitality of your hair. If there isn't an adequate supply of these 18 amino acids, keratin can no longer be synthesised and the structural element of the hair suffers.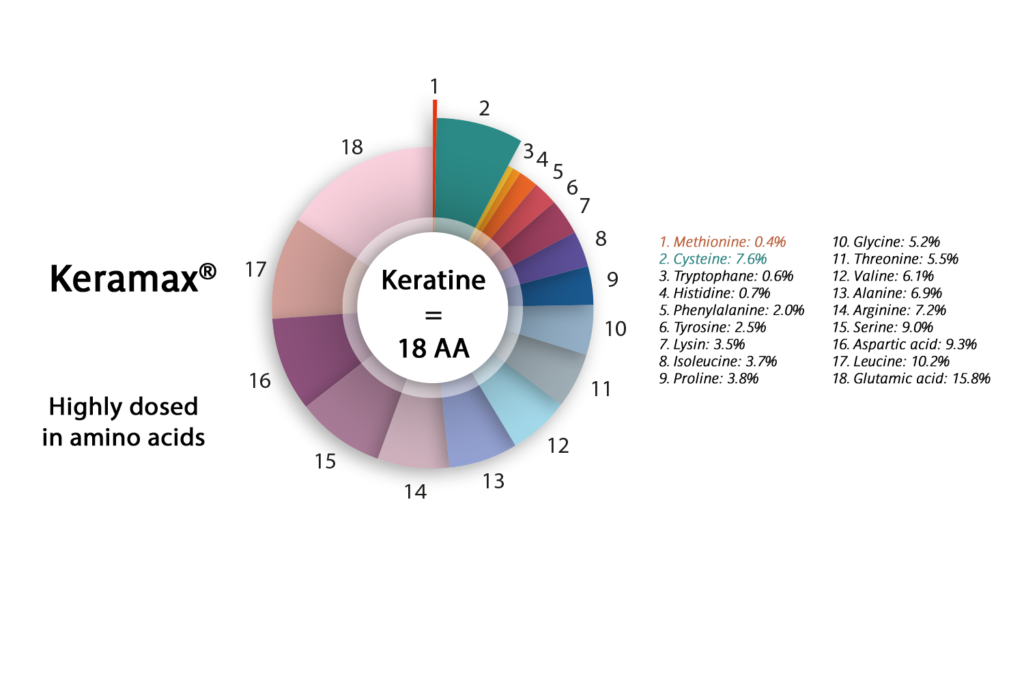 Keramax® keratin used in the Alline proMEN dietary supplement is of natural origin and combines all 18 amino acids that make up the keratin molecule. The exclusive process used to extract this keratin protects its complete amino acid composition while also making it soluble, ensuring excellent absorption by the body. It is sourced from 100% natural New Zealand sheep's wool and is obtained through shearing, so no animals are slaughtered or injured.
Maidenhair fern
Maidenhair fern, from the Latin Adiantum capillus-veneris, is a plant with luxuriant foliage. It was named by the ancient Greeks after Venus, the goddess of love, because her magnificent head of hair reminded them of the plant's beautiful leaves. "Capillus" means "hair" and "veneris" means "of Venus"4. Venus hair fern extract helps to slow down hair loss1.
A vitamin complex

Both beta-carotene, a source of vitamin A, and vitamin B2 contribute to the normal metabolism of iron
Vitamin A also contributes to the process of cell specialisation, an important stage in the capillary cycle
Vitamin C increases the absorption of iron
Vitamins B2, C and E help to protect cells from oxidative stress
Vitamin B6 supports the normal synthesis of cysteine
Vitamin B9 and vitamin B6 contribute to the normal metabolism of homocysteine
Vitamin B8 helps to keep your hair healthy
Vitamin B9 is important for the normal synthesis of amino acids and is also involved in the cell division process, another important stage of the capillary cycle
Vitamin B12 is involved in the cell division process
A duo of minerals
Alline proMEN contains two minerals that play an essential role in maintaining a normal hair growth cycle.

Zinc contributes to the proper metabolism of vitamin A, supports normal synthesis of proteins (such as keratin), protects cells from oxidative stress and helps keep hair and nails healthy
Zinc and iron are involved in the cell division process
Iron helps transport oxygen around the body
Instructions for use
Visible results
Testimonials
1 Adiantum capillus-veneris helps to slow down hair loss.
2 In vitro efficacy study. Evaluation of the bioavailability activity of a dietary supplement. University of Pavia (2010).
3 Nobile V, Dossena M. Double blind, randomized, placebo-controlled assessment of the efficacy of a food supplement in reducing hair loss in male subjects [Manuscript submitted]. Journal of Cosmetology & Trichology. 2021.
4 Makbul, S. Physicochemical and biological properties of Adiantum Capillus-Veris Linn: An Important Drug of Unani System of Medicine. (2018).