Alline proMEN - The hair loss prevention1 product specially designed for men
Male hair loss is a natural phenomenon that is part of the hair's natural life cycle. However, other factors may be the cause of increased hair loss.Androgenetic alopecia (male or female pattern baldness) is generally caused by various physiological reactions involving testosterone, but can also be explained by other causes, such as a poor diet, stress, or other external factors. This hair loss can be slowed by taking dietary supplements as long as these contain the right combination of ingredients.
Venus hair fern (from the Latin Adiantum capillus-veneris) helps to slow hair loss1.
Alline proMEN contains Keramax® keratin, a Venus hair fern extract and a combination of eleven vitamins and two minerals – a wide range of ingredients for preventing hair loss1.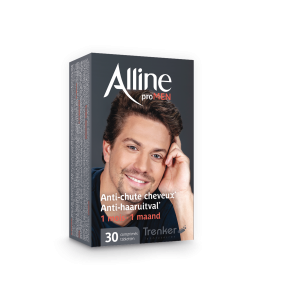 To slow down hair loss1 :
1 tablet/day

With a meal and a glass of water

Box of 90 tablets : € 39,99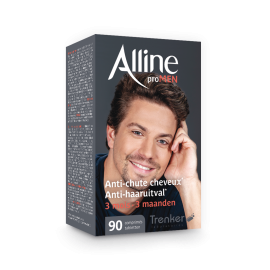 To slow down hair loss1 :
1 tablet/day

With a meal and a glass of water

Box of 90 tablets : € 94,95
In addition to containing a very wide range of ingredients and with a bioavailability of 95%2, Alline proMEN has been clinically proven to be effective and tolerance is optimal3 :
100 % of men experience less hair loss³
100 % of men have more glossier hair³
92 % of men have stronger hair³
1 Adiantum capillus-veneris helps to slow down hair loss.
2 In vitro efficacy study. Evaluation of the bioavailability activity of a dietary supplement. University of Pavia (2010).
3 Nobile V, Dossena M. Double blind, randomized, placebo-controlled assessment of the efficacy of a food supplement in reducing hair loss in male subjects [Manuscript submitted]. Journal of Cosmetology & Trichology. 2021.
4 Makbul, S. Physicochemical and biological properties of Adiantum Capillus-Veris Linn: An Important Drug of Unani System of Medicine. (2018).