Alline proderm – Beautiful, bright skin1, radiant complexion
The skin is the most visible part of the body and the way it looks is an important part of your personal well-being and self-confidence.
Skin is supple and strong because of the three layers of tissue that make it up: the epidermis (keratinocytes), the dermis (collagen) and the hypodermis (tissue rich in fat and blood vessels).
Alline proderm contains selected active ingredients that are essential for beautiful skin1 and natural ingredients that are easily absorbed by the body, including CynaPLUS® keratin, vitamin C, hyaluronic acid and Ceramosides®.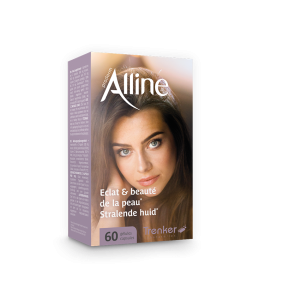 For beautiful bright skin1
2 capsules per day
With a meal and a glass of water
Box of 60 capsules : € 39,99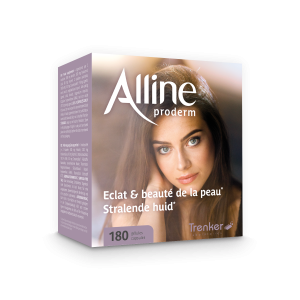 For beautiful bright skin

1
2 capsules per day
With a meal and a glass of water
Box of 180 capsules : € 99,99
The effectiveness of Alline proderm on the skin has been demonstrated by a scientific study3 :
75 % of women observed a reduction in fine lines and wrinkles
79 % reported improved skin hydratation
88 % noticed softer skin
1 Vitamin C contributes to:
• normal collagen formation to support skin's normal functions.
• protecting cells from oxidative stress. Environmental pollution and solar radiation are the main causes of this oxidative stress.
2 In vitro efficacy study. Evaluation of the bioavailability activity of a dietary supplement. University of Pavia (2010).
3 Marzatico F. et al., 2012.