ALLINE PRODERM – Beautiful, bright skin1, radiant complexion
The skin is the most visible part of the body and the way it looks is an important part of your personal well-being and self-confidence.
Skin is supple and strong because of the three layers of tissue that make it up: the epidermis (keratinocytes), the dermis (collagen) and the hypodermis (tissue rich in fat and blood vessels).
A high quality dietary supplement
Composition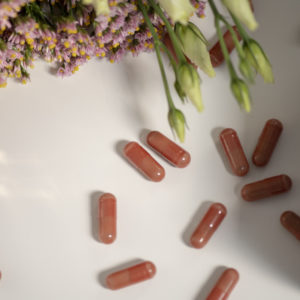 Alline proderm contains selected active ingredients that are essential for beautiful skin1 and natural ingredients that are easily absorbed by the body, including CynaPlus® keratin, vitamin C, hyaluronic acid and Ceramosides®.
Water-soluble natural keratin : an innovation
Keratin is produced by keratinocytes: cells found in the bottom layer of the epidermis within the hair follicle. Keratin is a protein produced and used by the body and is the main component of skin, nails and hair. It makes them toned and strong. It is therefore a key factor in radiant skin.
The exclusive process used to extract this keratin protects its complete amino acid composition while also making it soluble, thus ensuring that almost all of it – 95%2 – is absorbed by the body.
Hyaluronic acid
Hyaluronic acid is a natural and essential component of the skin. It has become very popular in anti-ageing cosmetics in recent years. A brilliant way to boost your skin's radiance.
Vitamin C
Vitamin C is a vitamin that contributes to the normal formation of collagen. And collagen means elasticity, resistance, suppleness and hydration! Everything you need for radiant skin. But that's not all, thanks to its antioxidant power, vitamin C helps protect cells from oxidative stress! So say yes to vitamin C because it can give your skin a serious helping hand1.
Ceramosides®
Ceramosides® are patented natural plant extracts for beautiful skin.
Instructions for use
Visible results
Testimonials
I see a difference with my skin, I have taken Alline proderm for three months and I have to admit my skin looks better!
I have been using the Alline proderm for two and a half months now and I clearly see a difference. My skin is firmer and has a better complexion.
As I am getting older my skin becomes drier. Alline proderm gives me a serious helping hand! My skin is beautiful and radiant!
1 Vitamin C contributes to:
• normal collagen formation to support skin's normal functions.
• protecting cells from oxidative stress. Environmental pollution and solar radiation are the main causes of this oxidative stress.
2 In vitro efficacy study. Evaluation of the bioavailability activity of a dietary supplement. University of Pavia (2010).
3 Marzatico F. et al., 2012.