Why is keratin so important?
Keratin is a protein found throughout the body. It is the main component of our skin, hair and nails. Has your body got enough keratin? If not, you may have duller skin, weaker hair and brittle nails.
This is because keratin is crucial to the structure of your skin, hair and nails
Where can keratin be found?
The production and synthesis of keratin in our body relies on certain key foods that contain B vitamins (onions, cauliflower, broccoli, etc.), iron (spinach, cashew nuts, kidney beans, etc.) and zinc (wholemeal bread, eggs, seafood, etc.)1. However, a balanced and varied diet may not always provide us with all the keratin, vitamins and minerals we need. 
In a suitable dietary supplement
Do you want a radiant complexion, shiner, bouncier hair or stronger nails? You may need to consider a CynaPlus® keratin supplement like Alline proderm2 (for radiant skin) and Alline procap3 (to strengthen your hair and nails).
Why should you choose our CynaPlus® keratin?
1) It is high quality and 100% natural, vegetarian, kosher and halal
It is made from keratin sourced from the wool of New Zealand sheep using a unique, patented process. Sheep bred in the New Zealand highlands are covered with a thick wool fleece to protect them from the harsh winter. This wool is sheared in the spring. Shearing sheep is just like a human haircut. Once shorn, the animals return to their fields to continue grazing and raising their young, free of the thick fleece for the long, hot summer.  The fleece grows back in the autumn, ready for the coming winter. No animals are harmed in any way during the shearing process. Why sheep's wool? Because this keratin comes from a mammal, the amino acid profile of CynaPlus® is similar to that of the keratin in human hair4.
2) CynaPlus® keratin ensures almost total absorption by your body5.
Using a unique, patented process, Alline Procap and Alline Proderm dietary supplements contain CynaPlus® keratin in the form of oligopeptides (small peptides) instead of individual amino acids.  This innovative conversion makes the absorption process much easier because the small intestine is able to absorb small peptides. This absorption method is more efficient than absorbing individual amino acids6
3) CynaPlus® keratin is extremely concentrated
It combines all 18 amino acids that make up the keratin molecule. In addition to methionine and cysteine, this keratin contains 16 other amino acids, compared to the typical keratin found in other products. The 18 amino acids are nutrients that are fundamental to beautiful hair.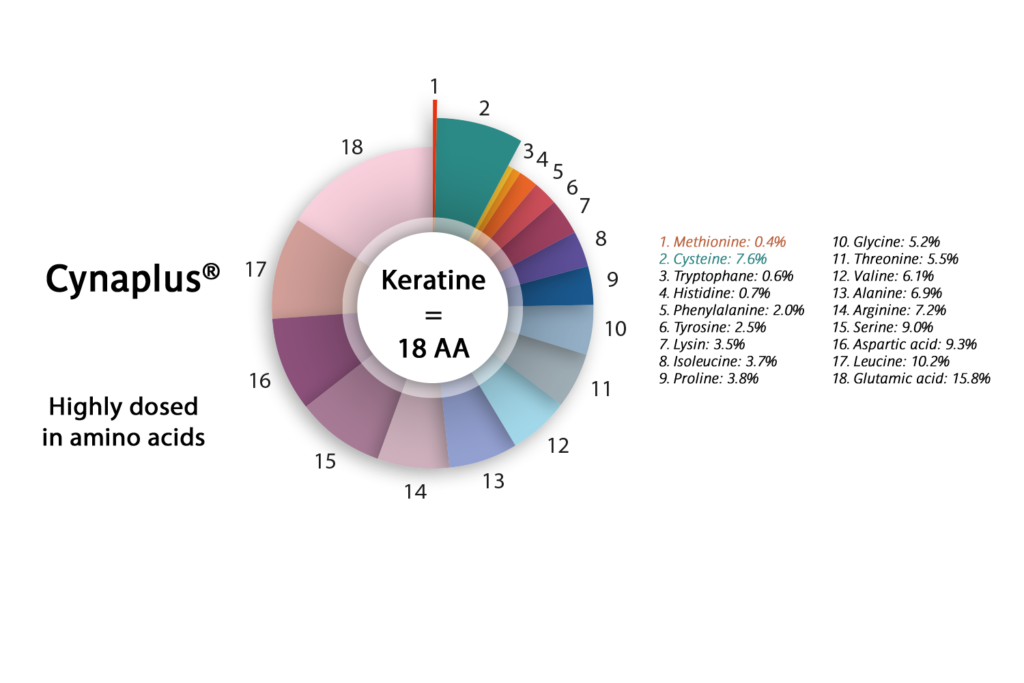 4) Two studies have been carried out to demonstrate the effectiveness of CynaPlus® keratin
A clinical study was carried out to investigate the effect of the keratin in Alline procap.
This study was based on 50 women with a hair imbalance and was carried out over a period of 90 days using 2 capsules per day.
The results obtained3 demonstrated a significant improvement in hair quality in the group taking the active ingredient, but not in the group taking the placebo :
100 %

of women noticed less hair loss³
95 %

of women reported shiny hair³
88 %

of women reported stronger hair³
1 Farcoderm srl. In Vitro Efficacy Study. Assessment of the Modulatory Effect of a Dietary Supplement on Cell Proliferation and Protein Synthesis in Cell Culture; 2010.
2 Vitamin C contributes to:
• normal collagen formation to support skin's normal functions.
• protecting cells from oxidative stress. Environmental pollution and solar radiation are the main causes of this oxidative stress.
3 Zinc contributes to the proper synthesis of proteins (such as keratin) and helps keep hair healthy.
4 Yu J, et al. 1993.
5 In vitro efficacy study. Evaluation of the bioavailability activity of a dietary supplement. University of Pavia (2010).
6 Gilbert ER, et al., 2008
7 Beer C. et al., 2014.
8 Marzatico F. et al., 2012.
9 Capillus veneris helps to slow down hair loss.