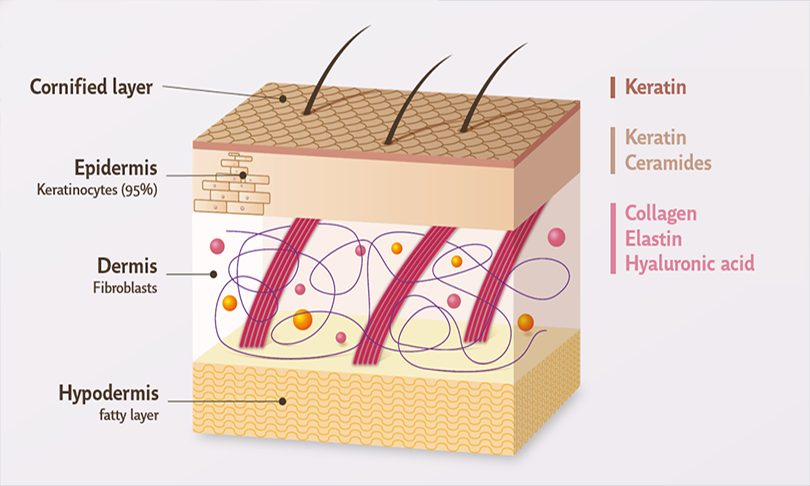 Skin is more than just a covering for our body. Skin is more than just a covering for our body. It is a complex organ that carries out many important functions. It protects our body from the outside world, as well as revealing it. But what is it made of?  Here's what you need to know!
Skin accounts for 7% of an adult's total weight1. It is divided into three layers called the epidermis, dermis and hypodermis. Each part is made up of different cells and structures2.
The epidermis
The dermis
The hypodermis
The epidermis
The epidermis²,³ is the very top layer of the skin, the one we can see.  This layer plays an essential role in protecting the skin and keeping it hydrated.
It is made of three types of cells:
Keratinocytes: these produce proteins that make up the hair, nails and lipids. Lipids, also secreted by the sebaceous glands of the dermis, are essential to the structural balance of the skin as they create a protective barrier and retain water. If there is a deficiency, skin can become dry, tight and rough. 85-95% of the cells are keratinocytes and these decrease with age
Melanocytes: these produce the melanin responsible for the colouring of your skin
Langherans cells: these are part of the skin's immune system
And five types of layers:
Basal layer: the deepest layer of the epidermis. Keratinocytes are produced here
Spinous layer: 3 to 10 layers of keratinocytes
Granular layer: this is where keratinisation of the keratinocytes begins. The cells produce hard granules which transform into keratin and epidermal lipids as they are pushed to the surface
Clear layer: a transitional layer between the granular layer and the cornified layer
Cornified layer: this is made up of dead cells called corneocytes. It is the top layer of the epidermis and is in direct contact with the skin's environment
The dermis
The hypodermis
1 https://quizlet.com/124665572/skin-flash-cards/.
2 Graham HK, Eckersley A, Ozols M, Mellody KT, Sherratt MJ. Human Skin: Composition, Structure and Visualisation Methods. In: Limbert G, ed. Skin Biophysics: From Experimental Characterisation to Advanced Modelling. Springer International Publishing; 2019:1-18. doi:10.1007/978-3-030-13279-8_1
3 Coudane F. Fonction et régulation des peptidyl-arginine désiminases dans l'épiderme et au cours de la cicatrisation cutanée. Published online December 18, 2009. https://core.ac.uk/download/pdf/12094517.pdf